Now more widely available!
Febuary 12, 2017



All three of my albums are now available online and in Lexington at CD Central. Thanks, Steve!
New release!
January 25, 2017

Just dropped the new album by me and my college bandmates! We're going by the name Hearing Eye Dog and the release is called Blind On Blind! Soon to be available online and in the finest terrestrial music stores.
May 26, 2016
It's starting to shape up as a busy summer! Here are a few upcoming gigs:
POSTPONED! Mon. June 6, 7:30pm -- Bill Kelly's Tribute to Elvis at The Jave Shop located in the Factory Stores Of America behind Cracker Barrel, Georgetown, KY.
Thurs. June 9, 5:30pm -- The Johnson Brothers at Thursday Night Live under the 5/3 Pavillion, Lexington, KY.
Fri. June 10, 9:30pm -- The Johnson Brothers at Parley Social, Lexington, KY.
Fri. July 8, time TBD -- The Bats at Willie's Locally Known, Lexington, KY.
Sat. July 9, 8:00pm -- The Johnson Brothers at The Red Mile, Lexington, KY.
April 16, 2016
Now on newsstands everywhere! (Well, at least the ones who sell quality guitar-related magazines. Like Joseph Beth Booksellers in Lexington, for example.) Thanks again, Vintage Guitar!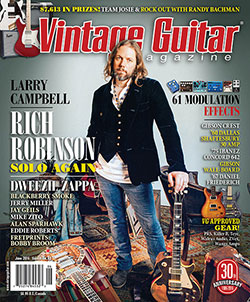 March 30, 2016
Some really great news arrived today.  Vintage Guitar, a big national guitar magazine, just published a review of my album Last Fish Standing!  I think the June issue hits the stands in 2-3 weeks.  Happily, it's a positive review.  It's especially nice to see them review an album by an unsigned artist (such as I am).   It's encouraging. 
Big thanks to Dave Hamon (keys and drums), Rex Hart (drums), Tom Green (co-composer of Worldwide Nobody), and Duane Lundy of Shangri-la Productions for his masterful mixing and mastering of the album. Could not have done it without you all!
The album is available online at Amazon, CDBaby, iTunes, Soundexchange.  Tell all your friends to buy a copy.  It makes a great Easter gift!  Or Derby Day.  Or Thursday.  Or whatever...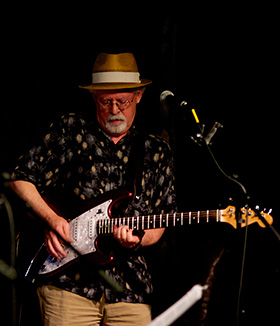 Kentucky-based New York transplant Jim Gleason is a musical omnivore whose interests range from rock and blues to jazz and swing to country and bluegrass.  Those influences and more are plainly evident on his original solo recordings -- Last Fish Standing (2015) and Deconstruction Ahead (2012) on which he plays all guitars, bass, pedal steel guitar and mandolin, as well as doing all the singing, writing all the songs, designing the packaging, and handling the promotion.   
Most recently he reunited with four college bandmates to create the EP Blind on Blind (2017) under the band name Hearing Eye Dog.